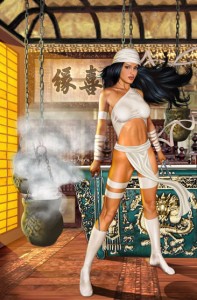 Rucka's run on Elektra was satisfying and perhaps no issue of his time on the book exemplified that more than issue 22, or Part 5 of "Everything Old Is New Again."  Trying out the peace thing, Elektra finds herself torn between her old ways and new (of course)  and must make a choice in the ultimate showdown, for her, and some others as well.
I like Carlos Pagulayan's pencils on the issue and am even inspired to go back and read the run after this issue.
The issue's big bad is the Three – a trinity of the Hand, Shadow, Thought and Pain.  There final showdown with Elektra Natchios does not disappoint.