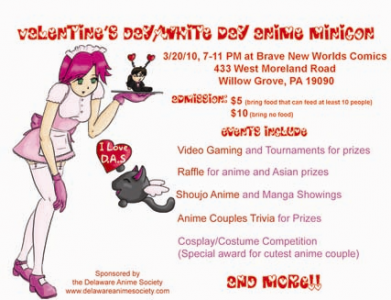 Brave New Worlds Willow Grove will serve as the host for the 2010 White Day Anime  Minicon sponsored by the Delaware Anime Society (with a special assist by its Pennsylvania Chapter).
So stop by on Saturday, March 20 from 7-11 p.m. to get your anime on.  There will be a $10 admission fee at the door.
Activities will include screenings of Shoujo, Ranma 1/2 and Kare Kano; video game tournaments in games like Mariokart and Wario Ware Smooth Moves; a trivia contest and a cosplay contest.
There will also be food and a raffle with awesome prizes like DVDs, magazines, toys and more!
For more information on DAS, which hold their monthly meetings at Brave New Worlds Willow Grove the last Saturday of every month, click the jump Delaware Anime Society – D.A.S. Kanameiji