It's a sunny day in Philadelphia. It's so nice out I almost forgot to post the character for this week. I tried to find a character that's pretty, well, lame and see if you'll read about him anyway. I had his Marvel Masterpiece card (painted by the great Hildebrandt Brothers) and had not seen the image in years…until I googled him (with Bing.com).
JUNKPILE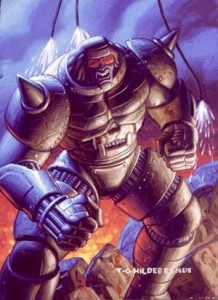 Junkpile was created by John Francis Moore and Ron Lim for the Marvel 2099 Universe with his first appearance being in the book X-Men 2099 #1 in 1993.
Check out his Wikipedia entry here!
Check out his Comic Vine entry here!
And if you really want to read about the 2099 Universe click here!
There you have it folks. Another week has flown by, some good comics came out and the weather got a lot nicer and we have all read a little bit more about Marvel 2099 then we ever thought we would. You're welcome! heh.
Also if there are any ideas for whom you may like to see here in this section shoot me an email! [BRiAN]