Well welcome back to 2 Comics I Wanna Read Tomorrow. I took off last week 'cause it was my birthday & I was feeling lazy super busy. This week I'm back in full swing with a look at a few comics that are in my stack for tomorrow. Hit the jump to check 'em out!
•Ex Machina #48: If you haven't been reading this comic from the beginning do not pick up this issue. Go back to the beginning and start there! This series is one of the best ongoing comics in ages. Brian Vaughan and Tony Harris' series of NYC politics meets Superheroes in a real world setting has been pushing the envelope and hitting all of the buttons of key topics of the last 9 years all while developing sweet/believable  characters. With only a couple issues left in this modern classic series, and after the events at the end of the last issue, this one has moved very high up on my reading list.
Ex Machina #48, Brian Vaughan/Tony Harris, $2.99, 32 pages, full color, Wildstorm Comics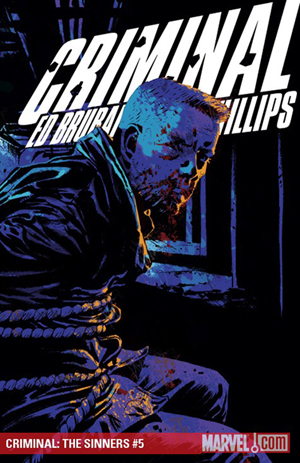 •Criminal: The Sinners #5: I know I already covered Criminal: The Sinners a few weeks back…but I can't help but get excited when a new issue in this series hits the shelves at BNW. Tracy Lawless is a total bad-ass main character. Sean Phillips has been killing it on art every darn time [ Val Staples on colors pretty much rules too! ]. And you can't beat a $3.50 value when you get a back-up article/essay, every month, about something else just as equally awesome and crime related as this week's essay on Femme Fatales by Jess Nevins. I continue to support Ed Brubaker and Sean Phillips' creator owned property from Marvel's Icon line and will continue to do so as long as it is being printed! Please if you haven't read these books yet do yourself a favor and check 'em out in trade or pick up a few issues next time you stop by Brave New Worlds
Criminal: The Sinners #5, Ed Brubaker/Sean Phillips, $3.50, 40 pages, full color, Marvel Comics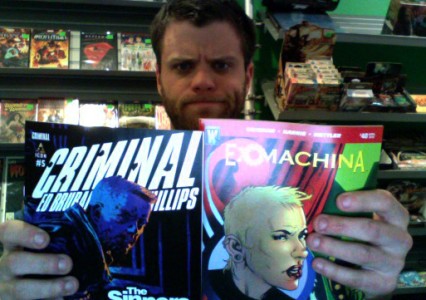 AAAAAAAnd…if you were wondering what my 2 Comics I Wanna Read Tomorrow would have been last week I will let you know. They First Wave #1 and Wolverine Weapon X #11 both of which were totally awesome and totally worth reading! Rich wrote about First Wave  #1 here and here so I'm not gonna retread that one, even though I really liked it. Weapon x #11 was a classic marvel story with Captain America and Wolverine doing what old war buddies do…drinking at bars. Oh and Deathlok showed up to kill people.