Superheroes. These 2 books are all about superheroes. So if you don't enjoy a good yarn heavily focused on years of spandex based continuity (and for some reason i never really pictured them in spandex more of sweatpants or something i dunno) then you may also have these 2 books on your to read stack…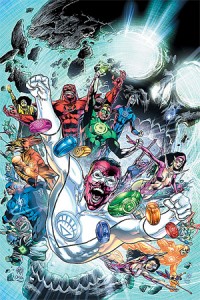 Blackest Night #8: Here we are at last..the FINAL ISSUE! It seems like just yesterday that I was teasing the #0 issue for Free Comic Book Day '09 over on our facebook page…but that was last year (darn near a full 365 days later we get the end!). This being the final issue it ties everything up in a nice little bow, I'm not going to even pretend that I haven't read it yet (i totally just read it), but still leaves things open for a whole lot more story…but not in a forced sort of way (like how Civil War ended). This book has an end- even though like I said it is an open one. Those openings are very intriguing and most definitely will effect the DCU for some time to come (don't they always say that though) while some changes are very immediate.  Geoff Johns tells a nice little story, through these eight issues and all of the Green Lantern and Blackest Night Tie-Ins, and the art has not slacked in anyway over the course of the series. Here Ivan Reis totally surprised the crap out of me **Spoiler(?)*** with a centerfold image that I really wasn't expecting but went hand in had with the vertical 2-page-spreads used throughout the series that I loved (let's see an iPad/digital comic device execute a true centerfold effect…i bet they can't unfold).
Blackest Night #8, Geoff Johns/Ivan Reis, $3.99, 40 pages, full color, DC Comics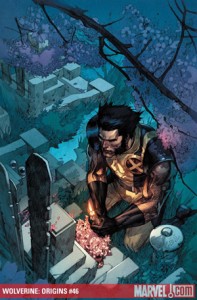 Wolverine Origins #46: Just look at that cover! Leinil Yu can sure draw the heck out ol' Logan. Ever since he did the art for Warren Ellis' Not Dead Yet storyline back in '98 (or even his first issue of Wolverine #113) he's been one of my favorite working comics artists! I mean look at this! Scary awesome…sorry I loved Wolverine as a kid and I guess that's why I still love Wolverine Origins. Again with a cover like this one over here to the left if you know Wolverine you know where he is….Mariko's grave. I love any comic that deals with Wolverine and his storied past (again another reason i love Origins is that Daniel Way said in some old interview that he had mapped out Logan's past stories and connected them before undertaking this series) or one where he has personal moments with his friends. This issue features Nightcrawler as a confidant and an issue of Wolverine Weapon X, a few issues back, featured a night of drinking with Steve Rogers. Gotta love that stuff. This issue, unlike the Blackest Night, I have not read yet but it remains at the top of my to read stack.
Wolverine Origins #46, Daniel Way/Scott Eaton, 32 Pages, Full Color, Marvel Comics
In case you missed it here's the list of comics out tomorrow