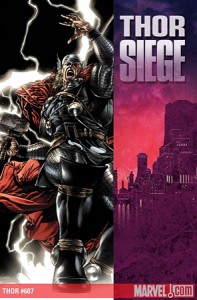 It was a Marvel week for the taste buds as two titles rose above everything else – Thor #607 and Ultimate Comics Enemy #2.  Obviously I can not go a week without gushing over something that Brian Michael Bendis wrote.  Anyway …
I loved Straczynski's run on Thor and was a little worried about Kieron Gillen assuming the mantle.  After a couple of issues, I finally found my self excited over an issue Gillen penned – Thor #607.  A Siege tie-in, this issue finally caught us up with the whereabouts of Volstagg since he inadvertently started the latest Marvel event.
This issue serves like the current New Avengers books, bringing readers up to the point where Siege began, and Thor really delivered this week on that account.  The wickedness and diabolicalness of Loki is on full display as he continues to manipulate Balder and his fellow Asgardians as war is about to come.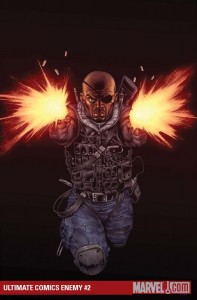 Meanwhile, in Marvel's other universe – the Ultimate ' verse, Ultimate Comics Enemy is shaping up into an interesting read.  The mystery continues in issue two this week (by Bendis) as Nick Fury and Spider-Woman are tangled in the web of a an unknown enemy seemingly bent on their destruction.  What the ultimate goal is, no one knows, but its engaging enough to keep me wanting more.  It just seems like the assault on the Ultimate 'verse is continuing, and the death toll just might keep increasing.
That's all I have this week, until next time, enjoy …