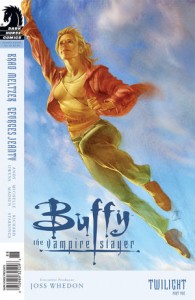 After falling under an avalanche of titles the last two weeks of January, the month of February opened quietly in the amount of books released.  Luckily that did not translate into lack of quality as the first three books I read this past week – Buffy the Vampire Slayer #32, Siege #2 and Ultimate Comics X #1 – were all outstanding.  As always, spoiler free.
Brad Meltzer was tabbed to deliver the season eight finale in Buffy the Vampire Slayer #32 and part one of "Twilight" did not disappoint.  There was a noticeable improvement in the story telling in Meltzer's first issue from Jane Espenson's just-completed "Retreat" story arc, which were the first Buffy issues that left me disappointed.
Back to Meltzer however, despite the online reveal of Twilight, the story did not suffer and left readers wanting more as it ended – always a sign of a great read.  And Georges Jeanty once again supplied his masterful pencil strokes.
There were some real nice moments between Xander and Buffy after her slayerness discovered some new abilities at the end of last issue.  However, as is the case in the Whedonverse, those powers come at a price and the reveal will leave you in shock.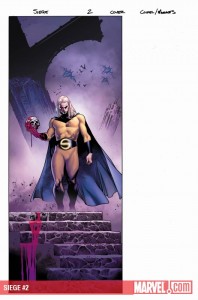 Meanwhile, over in the Marvel Universe, Siege #2 did not disappoint and picked up right where issue number one left off as Ares continues to lead the assault on Asgard.  At the end of last issue, Steve Rogers decided it was time to get in the game as Norman Osborn's boys were taking out Thor.  Let's just say holy frak as Ares and the Sentry face off, and Cap begins to mobilize the end of Osborn's Dark Reign.  After reading Brian Michael Bendis's first two issues of this mini-series, its hard to imagine how much better issue three can get.  Oliver Copiel's pencils were amazing as always.
Finally Jeph Loeb appears to have rebounded from his writing struggles and delivers readers a nice new origin tale in Ultimate Comics X #1.  Arthur Adams art is strong, and his inclusion on the book will see this titled released every two months.
The cover shows a kid with claws.  Can't be Wolverine since he bit it in Ultimatum (along with so many other characters).  So who is it?  Wait until you find out.  This is the Ultimate Universe we have been waiting for.
All three titles stood out above the pack this week for me so stop by Brave New Worlds and grab them if you passed them over, you won't regret it.