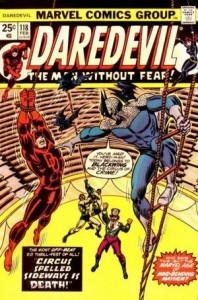 Fate was back in my hands this week as I once again resumed my normal digging through Brave New Worlds back issue comics vault for this week's gem from February 1975, Daredevil #188 (Volume 1) by Gerry Conway, Don Heck and Vince Colletta.
Talk about a treat as the big bad for this stand-alone story of Daredevil was none other than the Circus of Crime. Just who is the Circus of Crime you ask, sounds like a job for one of Brian's "Character to Learn More About."
As stand-alone issues go, this one had a lot happening as it opens with Daredevil returning to New York City after spending some time in San Francisco with the Black Widow (Ah Natasha …).  He takes down some petty thugs who are actually working for the aforementioned Circus of Crime.
Next Daredevil reverts to his alter ego Matt Murdoch so we get some face time with his partner Foggy Nelson.  But alas, the Circus of Crime is worried that DD is going to spoil their party and tail Daredevil to the office.  They attack, and hilarity ensues.
Shea Stadium serves as the focal point for the big finale as the Ringmaster turns a live television benefit into his own power source hypnotizing the crowd and the people at home watching, and then of course robbing them because back in the 1970s villains were only really concerned with making money (the easy way).  I guess Ringmaster's parole officer failed to mention what his power was before they agreed to put him on live television.
Anyway, Daredevil arrives to save the day ('natch).  The issue features the first appearance of Blackwing, which should be enough of a reason to pick up this lost treasure.