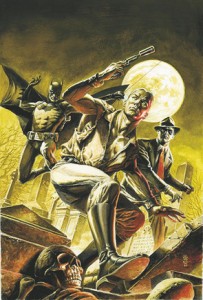 Out this Wednesday, DC unveils a shocking new universe with some classic (and unexpected) characters in First Wave #1.  Meanwhile as the Twilight mystery deepens in the pages of Buffy the Vampire Slayer, Dark Horse Comics releases the previous arc in trade paperback BTVS Volume 6 Retreat.
From the mind of Brian Azzarello, who teased readers a few months back with his Batman/Doc Savage Special, comes First Wave #1 this week, illustrated by Rags Morales.  It's a DC Universe like we have never seen before featuring Doc Savage, the Spirit, the Blackhawks plus Batman and Black Canary (among others) in a pulpy war in the shadows of war.  This new book looks promising.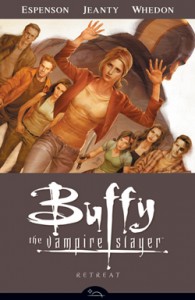 Brad Meltzer is up for his turn on Buffy the Vampire Slayer with the latest arc – Twilight.  But how did the Scoobies get here you ask?  Well, relive the five issue story "Retreat" by Jane Espenson that brought an all-out war to the Buffy 'verse and brought our heroes to their current predicament.