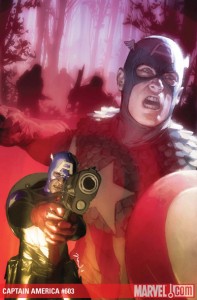 The Spotlight centers on Marvel Comics this week, which provides a double whammy for Brave New Worlds customers with the release of Captain America #603 and the latest Spider-Man premiere hardcover – Gauntlet Book 1 Electro and Sandman, shipping February 17.
Part two of Two Americas continues in Captain America #603 by Ed Brubaker as Cap attempts to answer the old adage from Thomas Jefferson about the tree of liberty needing to be refreshed from time-to-time with the blood of patriots and tyrants.  The answer will reveal who the patriot is, and who is the tyrant.  Captain America from the 1950s also stars.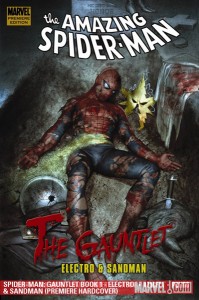 Electro as the voice of the common man.  Sandman as a misunderstood family man.  No you have not entered a Bizarro World, but rather The Gauntlet.  Yes, that is what is in store for you this week in Spider-Man Gauntlet Book 1: Electro and Sandman hardcover – the beginning of the event that redefines Peter Parker's classic arch-nemesis, one-by-one, starting with Max Dillon and Eddie Brock.  The Spidey team of writers and artist for Book 1 include Dan Slott, Fred Van Lente, Mark Waid, Barry Kitson and Andy Kubert among others.
Gauntlet Book 1 also includes Dark Reign The List – Amazing Spider-Man and Norman Osborn begins to make his move against everyone's favorite web head.