As I write this there is snow threatening the Philadelphia Area yet again, except this time Old Man Winter is trying to mess up Wednesday! WEDNESDAY! The holy of holies in the week of a Comic Fan! Holy crap winter– chill back!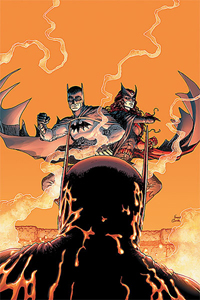 •Batman and Robin #8: This book should be in the hand's of all DC Comics fans! The last issue was totally freakin' awesome and there are no reasons that this one shouldn't be as well! Issue #7's page 1 blew my mind and after how it ended I am so happy there was only 2 weeks between! Cameron Stewart is now the only other person I want on this book besides Frank Quietly and in a perfect world they would be the rotating art team on what is Morrison's greatest book since All Star Superman [ Vol 2 of that in softcover this week ]. Dick's wearing the cape and cowl and along with Batwoman and the Knight and Squire he's trapped in a cave in England that contains a Lazarus Pit while Damien is having his spine reconstructed by one of his mother's doctors. And if all of that's still not enough– where did that body of Bruce Wayne come from anyway? Let's just say I love this book and cannot wait to read it tomorrow! [ also look for the Final Crisis / Last Rites connection! ]
Batman & Robin #8, Grant Morrison/Cameron Stewart, $2.99, 32 pages, Full Color, DC Comics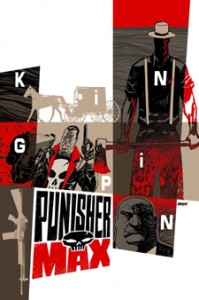 •PunisherMax #4: I honestly will be moving this comic up in my order of reading solely based on the name of the villain in it: The Mennonite! Look at that cover! There's a gol-derned horse and buggy on there! This comic has been awesome and there is no way an Amish bad guy is going to muck it up.  Jason Aaron tells a hardcore crime story, as seen in Scalped, and the origins of hate between the Punisher and the Kingpin have never been told like this before. Steve Dillon has some uncanny ability to just draw uber violent deaths and maiming in such and a way that I always want to see more no matter what it is [he's such a nice guy too you'd never guess he would draw such brutal stuff ]. Anyway this book is a Marvel MAX imprint so it's NOT for kids or the easily offended [ I felt like it needed to be said ].
PunisherMax #4, Jason Aaron/Steve Dillon, $3.99, 32 Pages, Full Color, Marvel Comics