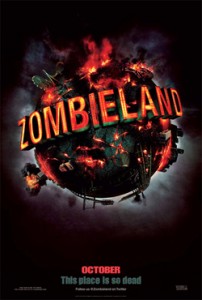 Our good friends over at Geekadelphia asked us to take part in an event they were planning at the Trocadero Theatre with the Philly Zombie Crawl and, well, we had to say yes when we found out it was for a showing of ZOMBIELAND!
This February 8th from 6:30-10pm The Balcony in the Troc [upstairs at 1003 Arch Street Philadelphia, PA 19107] will be full of zombies for their Movie Monday screening of Zombieland! If you come dressed up as a zombie you will be eligible for prizes of all sorts [some from us and some from other upcoming movies] and according to the guys over at Geekadelphia there may be other surprises- so who knows. THIS JUST IN some of our friends from over at Teddy Scares have offered to supply some awesome prizes as well! Now this event cannot be missed!
If you do happen to see the guys from Geekadelphia then please be sure to tell them that BRiAN's beard sent you.
The event is 21+ , sorry everyone <21, and if you show up before 7pm [ doors open at 6:30 ] you get a FREE beer and bag of popcorn! Otherwise $3 gets you in the door, then goes towards a drink, and if it fills up there will be additional seating downstairs.
So get your zombie on Feb 8th with BNW, Geekadelphia, the Zombie Crawl crew and a bunch of fellow fans of all things undead!