Wizards of the Coast will launch D&D Encounters, a new global program of weekly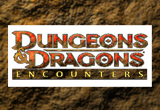 organized play for Dungeons and Dragons, on March 17th. The program is designed to engage players in regular play with other local gamers, to allow them to try new characters, and to try DMing for the first time.
The program will be deployed through D&D Encounters Play Kits, which will be provided to stores beginning March 10th. The Kits will include materials to support twelve players and two dungeonmasters for one to two hour play sessions each Wednesday, including adventures, maps, tokens, rewards for players and DMs, and a promo poster which doubles as a play tracker.
The first mini-campaign, which will run from March 17th to June 2nd, features the dungeon of Undermountain in the Forgotten Realms. "It's organized into three chapters of play, with each chapter including a few encounters/play sessions," according to a WotC spokesperson. "It's set up to be an ongoing narrative that continues through each session and chapter."
Players can use their own characters, characters they create at the store, or one of six pre-generated characters that come with the Kit.
Participants will receive Renown Points for completing encounters, finishing quests, and engaging in other adventuring activities. Points will be redeemable for in-game rewards.