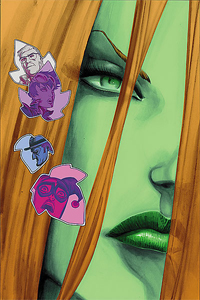 Gotham City Sirens #8
Before you laugh and scoff at what might look like a guilty pleasure, stop for a moment and read this month's offering as Guillem March and Marc Andreyko team up to tell a creepy tale in which Poison Ivy looks to finally receive her comeuppance.
Gotham City Sirens has consistently been enjoyable since it came out eight months ago.  March has been supplying some superb and subtle artwork while Paul Dini has been providing excellent words.  Obviously March has become inspired working with Dini and this month took the job to plot the book himself, collaborating his script ideas with Andreyko on issue eight for what proves to be a chilling issue.
In the past, these three characters have not been successful in carrying their own titles, either by themselves or teamed with a second, however DC has seemed to find a new trinity residing in Gotham City of all places.  Each character brings a different trait that tends to balance the story telling and makes each issue a good ride.  Plus, when all else fails, Mr. J can always come back and wreak havoc with Harley's heart.
So, before you laugh at this pick, give Gotham City Sirens a try, you might find yourself hooked.