Marvel and Vertigo find themselves in the Brave New Worlds spotlight once again this week with the releases of Ultimate Comics X #1 and The Great Fable Crossover, collected in the 13th volume of Fables trade paperbacks – out this Wednesday.
Marvel's offering this week might finally supply readers with what they have been promised since the beginning of the Ultimate Universe – new unique characters.  This week Jeph Loeb and Arthur Adams (he's back) team up to fill the gap after the deaths of so many heroes during Ultimatum.  Ultimate Comics X will be a new ongoing bi-monthly title.  Check it out this week.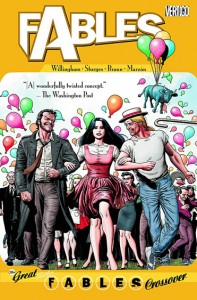 Meanwhile over in the world of Vertigo, the latest collection of Fables issues is here Wednesday and Brave New Worlds will have plenty of copies in stock to fulfill the needs of the masses as volume 13 supplies readers with the Great Fables Crossover as jack discovers the existence of The Literals and must warn the Fables before its too late.