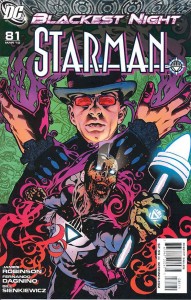 This week sees the return of James Robinson's Starman… sort of.  While Jack Knight is nowhere to be found in these pages his murdered brother returns as a Black Lantern – with all of city's hero's dead or out of town the citizens of Opal will have to look to ex-super villain The Shade for rescue.
By James Robinson, Fernando Dagnini and Bill Sienkiewicz.
$2.99, 32 pages, full color
Haven't read Starman before?  One of the best series of the 90's is currently available in softcover trade paperback and really nice hardcover omnibus volumes.  Stop by the store to check them out.