Attention Twilight Fans! Brave New Worlds is now taking advance orders for the new Twilight manga! Check out how you can guarantee yourself a copy!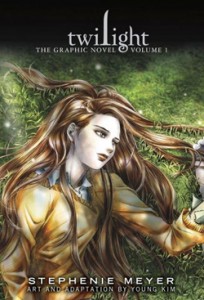 First off here's what the Diamond solicitation information has to say:
by Stephenie Meyer & Young Kim
From Yen Press. The love story between the innocent teenager Bella and the handsome vampire Edward, which prompted a worldwide phenomenon, breathes new life in a two-volume adaptation of Twilight! The first volume has been rigorously reviewed by Stephenie Meyer and reflects her personal vision of the world of The Twilight Saga. This unique art style – a black-and-white graphic novel with color interspersed throughout – is guaranteed to take a bite out of the graphic novel world and leave fans eagerly anticipating the exciting conclusion in Twilight: The Graphic Novel, Volume 2!
Twilight Vol 1 Hardcover

224 pages
$19.99 [ counts towards the Book Club! ]
Release Date: March 17, 2010
We are now accepting pre-orders @ both BNW locations. Feel free to give us a call, shoot us an email [ please make sure the Subject line of the email says: Twilight PreOrder ] or even stop by in person.
•Willow Grove:  215.657.8838
or email  ERIC
•Old City:  215.925.6525
or email  ROB