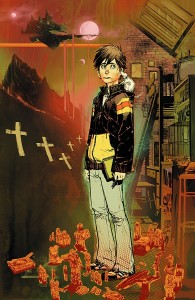 Vertigo Comics latest premiere, Joe the Barbarian, ships this week from the mind of comic-master Grant Morrison.
An eight-issue mini-series, Morrison takes us on a ride with a kid who has a lot going on – overactive imagination, outcast at school, one parent and oh yeah, throw in some Type I diabetes to boot.
So the question, is Joe experiencing an insulin-deprived hysteria or is something else going on that has Joe traveling to lands with ninjas, robots, knights and space?  And, is Joe really the savior of this universe that is under attack by, you guessed it, dark forces.  With a little assistance from a samurai rodent, will Joe be able to liberate this new land, or should he just make sure he is taking his medication?  Then again, the alternative is clearly more fun.
With art by Sean Murphy, this premiere issue is just $1.00.  So, drop down a buck and give Joe the Barbarian a try this week.