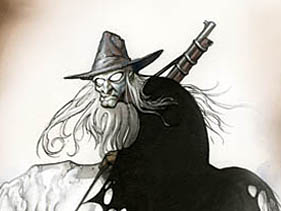 Fans of Eric Powell's The Goon rejoice, the creator and mastermind has a new offering in the wings just for you  – a three-issue mini-series based on the beloved and mysterious character of Buzzard.
Following his brutal showdown with the loathsome Zombie Priest, Buzzard leaves his home, wandering aimlessly until he steps into the shadowy spirit realm of the forest. A dark path leads him to a small village living in fear of a bestial race of savages. More animal than man, these creatures hunt the villagers and drag them from their slumber in the depth of night.
"Buzzard has always been a personal favorite of mine from the Goon cast, and from the amount of requests I've gotten to give him his own series, I imagine he's a favorite of the readers as well," Powell said. "I'm really excited to finally be giving him his own story, along with the revival of Billy the Kid's Old Timey Oddities!"
Powell's all-new Buzzard series will arrive on shelves later this fall.  Stop in Brave New Worlds and add it to your pull list today so you don't miss out on any issue.