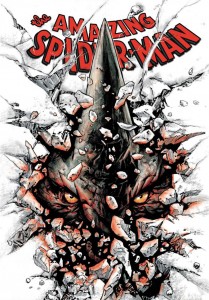 Little did I know this week when I pulled Amazing Spider-Man #617 off the rack that I was in for a treat. Joe Kelly's latest offering in the saga of the Spider is a touching and heartfelt story with everyone's favorite misunderstood member of the Sinister Six – the Rhino.
While Kelly was busy painting what might be the most poignant story of his career, with his words, Max Fiumara added masterful art that complimented this issue perfectly.
Issue 617 is part of the current Gauntlet storyline in Amazing Spider-Man, with the preceding installments featuring Sandman and Electro. I am not really sure what to make of the overall arc so far. It seems to be an updating of the whereabouts of the Sinister Six, beginning unofficially back in issue #600 with Doctor Octopus.
Basically each of Spidey's former enemies are finding their way back into his life, but this time with a new twist. Basically these old characters are aging and we are getting a glimpse into what's new with them. For Electro, its all about power (as always) and for the Sandman (perhaps taking a page from Spider-Man 3), its all about family.
Neither however hits the emotional notes of one Aleksei Sytsevich or better known as the Rhino, to you and I. I don't want to give anything away, this issue is that good.
At the end of the tale, there is an extra Rhino tale called "The Walk" by Kelly and artist Javier Pulido that catches us all up on what Alexsei has been doing before this issue starts.
I know a lot of people have sworn off Spidey since his deal with the devil. And it really has been awhile since this book was as good as it was during Straczynski's heyday, but this issue really rivals it. So do yourself a favor and pick up this issue, you will be the better for it.