This week we finally got to the fun stuff. With the Hulk on hand to oversee the work crew, Brian and myself went to work on developing the 'Great Wall O Comics' version 5.0. Ironically, joining us that day was Darin Swartley who used to own Cyborg 1 comics in Doylestown. He was the one who shared comic fixture building technology when we built Fallout Comics together 12 years or so ago.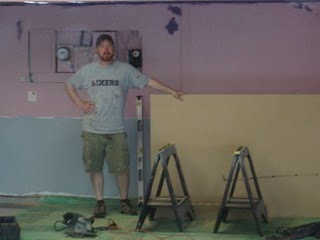 Darin and Eric were hard at work cutting and hanging all the slatwallthat was delivered earlier in the week, while Brian and I started to layout the design for the 8-foot wide shelf units.
I was determined to make improvements on the shelves that we built two years ago in the Old City shop. I want the bottom two shelves to move out closer to the shopper to make them more accessible. This would also act a foot for the shelving as we would not be attaching them to a wall like all the previous shelving units. Once we could design a prototype that could stand on it's own, we simply had to make four more following the template.
And voila, the new shelving was born. Brian had a really important phone call, but we managed to get a few built.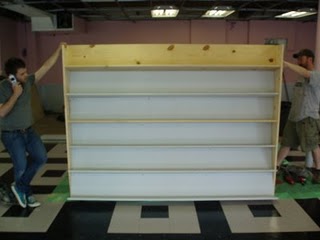 While we were working the electricians started on the fire alarm system that was required by the township. It was a really busy day and the building was a beehive buzzing with activity.
On Saturday, Maura's boyfriend Jim conquered the old HVAC in the middle of the shop that hung out below the drop ceiling. We thought it was around 300 pounds, but it was probably closer to 500. I should know because it spent some time on top of my head while three of us were trying to get it to the ground. Luckily, Jim's friend Pete had a winch in his truck and we were safely able to remove the old eyesore. My neck is still a bit sore.